Gene Romero excelled in every aspect of motorcycle racing across a long and successful career. And he was known as 'Burrito'.
Gene Romero had an unlikely start for a motorcycle racing legend, having spent four years racing quarter midgets and two additional years racing karts. His direction in motorsport was redirected by his neighbour and motorcycle racer Johnny LaManto.
He suggested that Gene might want to try racing motorcycles, and soon Gene had acquired Johnny's Triumph Cub.
Learning to ride along the edges of the local alfalfa fields, it wasn't long before the topic turned to motorcycle racing. Gene: "My dad said that I ought to go race it, but I said, 'Nah, I don't want to do that…' well, one thing led to another and we did."
Success quickly followed in both scrambles and flat track/TT, events, first on Tiger Cubs, then on a Bultaco and an Aermacchi 250 Sprint sponsored by the local Harley dealership.
With a forged birth certificate, Romero was racing at Ascot Park by 1964 and, at age 15, he won his first heat race and final.
San Luis Cyclery sold Romero a discounted Triumph, which Gene used to great effect. By 1966 he was sponsored by the dealership and was a first year expert in the AMA. Gene was to get his first National finish at the Castle Rock TT in Washington and Triumph was beginning to take note of this promising Californian.
For the 1967 season, Gene was brought on to the factory Triumph road racing team, to ride their unbeatable 500cc twin T100/R racer at Daytona. This was a huge opportunity for any rider, much less one without a National win in his resumé.
There were six factory Triumphs entered, including those of 1966 winner Buddy Elmore, Gary Nixon, Larry Palmgren, Eddie Mulder and Dick Hammer.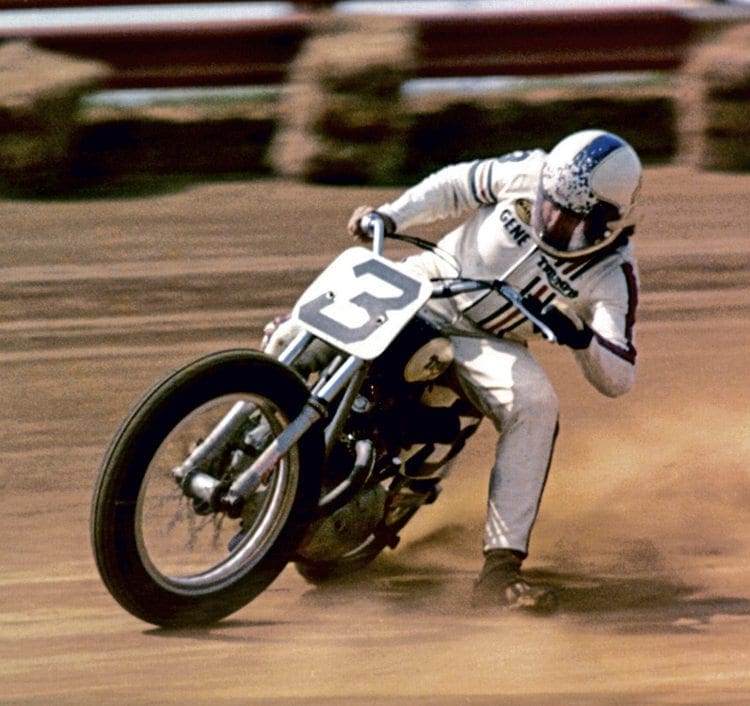 Hammer and Nixon battled for the lead, and eventually Nixon and Elmore finished one-two. Romero had finished eighth, behind Hammer in seventh. It had been a worthy Daytona debut for the young rider.
Gene went from strength to strength that year, but it all went wrong at Tulare. A vicious crash resulted in a femur broken in 14 places and amputation was seriously considered.
He was to spend the following four months in hospital. Gene learned life lessons from that horrible crash that he carried with him for the rest of his days.
The factories were only looking at riders as the flavour of the day and there was no loyalty given to injured riders. Gene: "Nobody would have anything to do with you and you learned a lot about life. You found out who your friends were. This was before therapy and you had to do it yourself."
Romero was determined to come back, as he had a great deal of self-belief and determination. "There are two things you bet on… sure things, and yourself.
"I had enough money to get to the Midwest with a few dollars left over. Neil Kneen had a spare bike and he helped support me with a ride. I would race on a Tuesday night in one city, then Wednesday night in another, racing all the time."
Read more and view more images in the September/October 2019 issue of CR – on sale now!

Enjoy more Classic Racer reading in the bi-monthly magazine.
Click here
to subscribe.