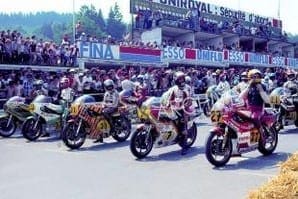 There was a cosmopolitan entry of 40 riders, from England, Switzerland, Holland, Spain, Denmark, Norway, Finland, Belgium and France and no non-starters. Conditions were dull and overcast but dry with a sharp northerly wind, which had the record crowd well wrapped up. Factory riders Ken Bills (Velocette), Artie Bell (Norton) and Freddie Frith (Velocette) made up the front row with Jock Weddell (Velocette) and Eric Briggs (Norton) just behind.
At 10.30am prompt, the starter dropped the orange flag and the gathered throng began to push. Bills and Frith blasted off 'like scalded cats' but Bell's Norton refused to fire and he was left pushing. Tommy Wood took advantage and drove his Velocette round Bell, from the third row, to lead at the end of the straight.
Avoiding action
As the rear of the grid came upon the struggling Bell, they had to quickly take avoiding action, left and right, and as AJS runners Bill Humphry and Norman Croft went the same way, they collided and took the Dutchman Ben Maltha (Norton) with them. Their machines revved out as they spun out of control in the centre of the track as the rest of the field tried to avoid further carnage.
Fortunately, for the former two, little damage was done and they were soon up, dusted down and on their ways. Maltha's Norton however could not be repaired in time and he was forced to retire. Poor Artie Bell continued to push in vain before having to resort to changing the plug. He eventually got away but by then the leaders were halfway round the 10-mile Circuit van Drenthe.
Frith led Bills with some 100 metres behind, Johnnie Lockett (Norton). Frith's Velocette had run a big end in practice and he had to seek assistance from a Norwegian privateer, who supplied a replacement. It did not, however, faze Frith who made the Velo earn its keep. Bills was in tandem, with Lockett, Franta Juhan (Velocette), Piet Knijnenburg and Ted Frend (AJS) following up. A lap later Locket retired the Norton with a split oil tank.
Frith and Bills settled into their places and the main attention then centred on the battle for third. Juhan held on for a while before Van Rijswijk (Velocette), Frend and Briggs relegated him.
As the leaders rushed to the final flag they were side by side, with Bills using the slipstream to gain a machine's length at the line. A few seconds later Briggs and Frend appeared together out of the final right-hander when suddenly Frend's AJS lost traction and skittered through the bales. Frend took a heavy knock to the head and was hospitalised with concussion. Juhan eventually regained his place to take third with Bell finishing a remarkable eighth.
Four-cylinder Gilera
Bell had a better time in the 500cc race. Masserini took the hole shot on the four-cylinder Gilera, with Bell tucked into his draught, where he stayed for three laps before making his move. The pace eased slightly as it began to rain, making conditions on the smooth, flat circuit treacherous. In his efforts to stay with the charging Irishman, Masserini crashed out on the third lap. As the rain worsened, Bell's pace slowed and he was passed by Lorenzetti on the Guzzi single. It was only temporary though because Bell's pressure forced the Italian to fall, leaving Bell with a clear track all the way to the flag. He finished over two minutes ahead of Pagani's Gilera, with Jock West (AJS) a further two minutes adrift of him, in third.
The 125cc race, with 24 Dutch entrants, four Spanish and two Italians, turned into a procession, D Renooy taking the win on a Villiers-engined Eysink.
View more archive imagery at www.mortonsarchive.com