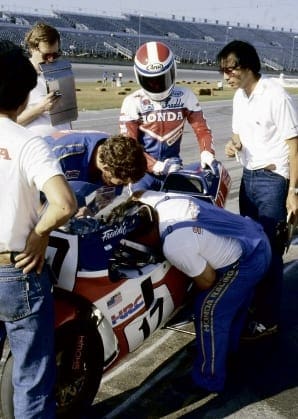 During that 1983 season, it became clear we were limited on how
much further Honda could take the three-cylinder.
We'd suspected that the Yamaha would be strong.
When Barry Sheene got on it and had them put the engine further back that's what immediately made it handle better.
Unfortunately he got hurt at Silverstone; he would have been tough to beat if that hadn't happened.
As the season went on it became obvious Yamaha was catching up on handling, and already had the engine performance advantage.
I heard a little bit about a possibility that there was a (Honda) four in the works.
After we won the 500 championship I went to Japan and raced in the All-Japan GP at Suzuka, and won that.
On Monday I heard there was a chance that we were going to see this V4.
I was pretty much in disbelief; the fuel tank under the motor, the exhausts over the top of it. Really? OK, that's fine; Honda knows what it's doing.
Read more in May/June edition of Classic Racer


Enjoy more Classic Racer reading in the bi-monthly magazine.
Click here
to subscribe.