It's been two decades since the RC45 retired from global competition. It's worth remembering just how strong a machine the single-sided factory machine was against the other diesels.
Words: Alan Cathcart Photos: Kel Edge
Honda knew it had to come up with a radical advance on current four-cylinder Superbike technology if it was to stand a chance of elbowing its way back to the top of the rostrum.
It had been a three-year absence from the Superbike paddock – a long time in racing. It was either get the four-cylinder faster, build a better V-twin or get to grips with a superior CBR900RR Fireblade-style in-line four, to defeat Ducati and Kawasaki at their own game.
Those options may have been considered, and despite corporate denials perhaps even tested, but in the end there was only ever going to be one choice. The RC45 had to be a 90º dohc V4, like its RC30 predecessor, but with the gear camshaft drive moved from the centre of each bank of cylinders to the right side.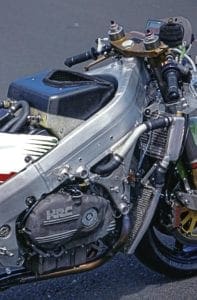 This allowed weight and bulk to be reduced, by eliminating one crank journal and one cam journal, narrowing the engine and also reducing internal friction losses. Total included valve angle was reduced from 38º on the RC30, to 26º on the RC45.
Article continues below...
Advert
Combined with the offset camdrive which gave a steeper, straighter shot at the 2mm bigger inlet valves, and the radically different combustion chamber design (still with a single central plug per cylinder), this greatly improved cylinder filling on the shorter-stroke 72 x 46mm engine, which in standard form weighed 4kg less than the RC30 motor measuring 70x 48.6mm, even though the bike as a whole scaled 4kg more in street guise.
Read more in the May/June 2019 issue of CR – on sale now!


Enjoy more Classic Racer reading in the bi-monthly magazine.
Click here
to subscribe.
Article continues below...
Advert