Jim Harvey, born April 22, 1948, started racing in 1968. By 1970, he'd started riding for Tom Kirby, firstly entered on his own Norton Dominator, then on the Kirby Metisse G50 and 7R machines.
Jim won the clubman's championship in 1970, riding his 500cc Norton Dominator and the Kirby Metisse G50.
He then went on to win the 1971 Shell Oils 500cc championship using the Kirby Metisse G50, and then in 1972 on the Kirby Metisse G50 and the TWS Suzuki T500, he won the 500cc British championship – the top national class in 1972.
He also rode a works Norton Commando, entered by Norton Villiers Ltd, with Rex Butcher at the Thruxton 500 mile Grand Prix in 1972, finishing second; he always reckoned team orders denied them a win.
Jim parted company with Tom Kirby around early August 1972, doing a deal with Two Wheel Services to ride a works supplied 500cc Suzuki twin in 1973.
Sadly, the owner of TWS died in the winter of 1972/1973 and the deal fell through. So Jim had a frame built to take a Suzuki T500 race engine purchased directly from Suzuki, but the frame proved poor and Jim's brothers built a new frame for him in August 1973, to take the Suzuki engine, but it proved not to be a match for the works Suzukis during 1974.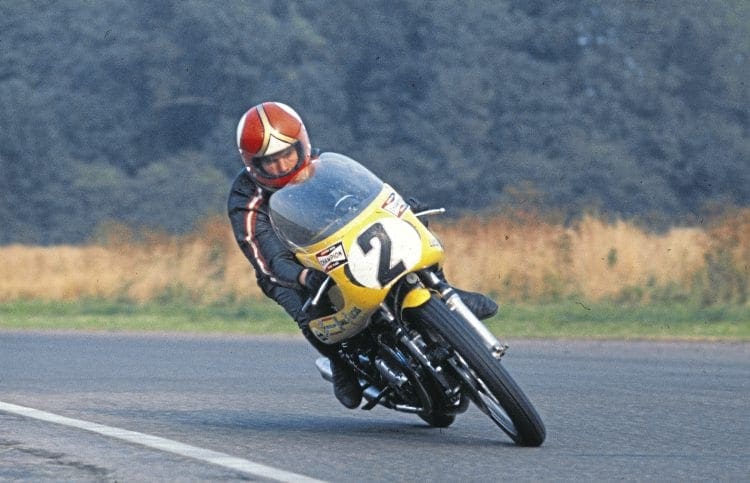 For 1975, Jim purchased an ex-works-America Yamaha TZ750A (700) which was the ex-Kenny Roberts bike left in the UK after his European visits.
Jim campaigned this in both Europe and the UK – he finished eighth overall in the 1975 John Player GP at Silverstone, the first privateer home.
Jim raced a KTM 400 in the Suffolk Enduro series from about 1997 to 2004.
A true biker, he used a road bike from 16 years old to the day he died, April 13, 2020.
Stephen Harvey.
Read more News and Features online at www.classicracer.com and in the July/August 2020 issue of Classic Racer – on sale now!

Enjoy more Classic Racer reading in the bi-monthly magazine.
Click here
to subscribe.