Buoyed by the success of the CRMC's Cadwell Park and Darley Moor meetings, everything was set for a brilliant weekend of racing at the Pembrey circuit in South Wales, over the weekend of September 26/27 – but it was not to be.
Despite all the challenges that came with running a race meeting under the restrictions imposed by the Government and the sport's governing body – the ACU – there had been no problems whatsoever and as a result all those who attended Cadwell Park and Darley Moor had an excellent weekend of classic racing.
Because of Pembrey circuit's efforts in liaising with the Government and local authority, it seemed that the CRMC would be able to finish the year in style.
One of the late restrictions placed on the club was the limit of only one additional person per rider. Everyone who had entered was contacted to see if they would still attend and an overwhelmingly positive response was the result. So the decision was made that the meeting would go ahead.
But then, with just one week to go, a statement was issued by the circuit saying they had to cancel the event.
A club spokesperson said: "During the lead up time to the event we were presented with a number of problems over and above that of a normal race meeting, all of which were successfully resolved. This has put a huge extra burden on the team who put race meetings together.
"We had great support from CRMC members with a great entry for all classes and also great support from marshals and officials. Alas, it was not to be and permission to run the event was withdrawn and the plug was pulled.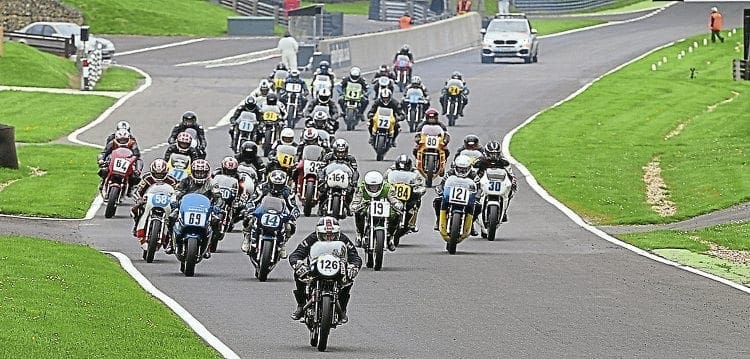 "We would like to thank the Pembrey staff for all their work in trying to make this event happen and we are looking forward to our visit to Pembrey next year, hopefully in happier times.''
Phil Davies, Pembrey circuit manager, said: "We are extremely disappointed to have to postpone the Classic Racing Motorcycle Club's annual visit to Pembrey this year. Along with the CRMC, we looked at all options regarding running the event.
"However, given how fluid the situation is regarding restrictions around the country it made sense to sadly cancel the meeting."
CRMC ROUND UP
• The 2020 CRMC Championships will be based on the six rounds held this year and a presentation of awards made at a time and venue to the confirmed.
• The 2021 CRMC calendar of seven events is taking shape and will be covered in the next edition of Classic Racer. It is expected that the circuits and dates are likely to be similar to what had been planned for 2020.
Read more News and Features online at www.classicracer.com and in the November/December 2020 issue of Classic Racer – on sale now!