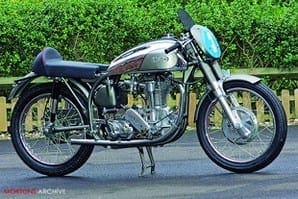 As many readers will know, the International Norton was the forefather of Britain's longest serving and most successful racing motorcycle – the Manx Norton. First appearing in 1929, the Arthur Carroll and Joe Craig designed single overhead camshaft International engine was much more than a development of the earlier Walter Moore designed 'Cammy' engine, which powered the CSI Norton.
Developed over the pre-war years, International Nortons proved themselves on both road and track, establishing the marque as one of the front-running manufacturers of the time. Designated as 'Internationals to racing specification', competition versions were campaigned either by works riders or sold exclusively to approved/worthy competitors.
Even in 1937 when the first double overhead camshaft machines became available (to official works riders only), they were still known as International Nortons, and it wasn't until 1939 that the familiar sobriquet of Manx Norton, or Manx Grand Prix Norton as they were first called, marked the commencement of a distinct line of purely racing machinery.
After the war Manx Nortons, manufactured exclusively for the track, were the racers favoured option and, when the already competitive double overhead camshaft engine was mated to the revolutionary Featherbed frame in 1950, works riders enjoyed the complete package. The single cam International Norton was still being manufactured for both road and track, but, being outclassed by the double knocker Manx, could easily have been consigned to road use only had it not been for the introduction in 1947 of The Clubman's TT.
Designed to test the metal of machines in road trim, including the use of road tyres and kick-starters, the Clubman's TT quickly became popular with riders and race fans alike. Success at the Clubman's TT was believed to translate directly into sales of road-going machines and as such it provided private sponsors (mostly independent motorcycle dealers) with the opportunity to field competitive machines at the world's leading motorcycle event in an effort to enhance sales.
"Geoff was very impressed with the reliability and handling of his mount, and he gleefully recounts being able to take Hillberry corner flat out."
From 1949 onwards BSA really dominated the Junior class with their Goldstar and, from 1954 onwards, the Senior as well, ultimately leading to the demise of the Clubman's TT. However, with so much positive publicity to be gained as a result of Clubman's success in 1953 Norton chose to give the International one more lease of racing life by bequeathing it the featherbed frame and calling it the Clubman's TT International. Success for Norton was instantaneous (albeit short lived) as 'approved' riders and sponsors flocked to purchase the featherbed framed Internationals – the vast majority of which were produced to racing rather than road specification. A total of thirty 500cc machines and twenty-eight 350cc machines were manufactured in the first year, and all but sixteen motorcycles made it to the Isle of Man, with Norton taking the top three places in the Clubman's Senior in the hands of Bob Keeler, Eddie Crooks and WA Holmes. Jack Bottomley managed third in the Junior behind the Goldstars of Derek Powell and Owen Greenwood – pretty good for their first real test.
The following year a total of ninety-six featherbed-framed Internationals were made, but only thirteen to Clubman's TT specification – ten 500cc machines and just three 350cc machines. Unfortunately for Norton, by 1954 BSA had risen to the challenge, and Norton's best result came in the Junior, with fifth place for Geoff Tanner. Their best Senior Clubman's result for 1954 went to Dave Chadwick with seventh place, followed by GW Shekell in 12th, and although riders continued to campaign Clubman International's until as late as 1956, with Alan Shepherd gaining a fine third place in the Junior Clubman's TT, no more were manufactured as Norton chose to plough their efforts into more modern machinery.
Bob Chapman first employed Bernie Allen's services in restoring one of his Nortons in 2006, by which time Bernie had already established an enviable reputation for exemplary motorcycle building and restoration, with over 100 replica Manx Nortons to his name and a worldwide customer base including at least one ex-World Champion in the shape of J Surtees Esq.
When Bob developed a craving for a genuine International Clubman's TT Norton it made sense to enlist Bernie's expertise – firstly to find a machine and then to restore it. With Clubman TT Internationals only having been made in small numbers, and for just two years, the chances of finding a complete and genuine example were slim. However, Bernie recalled just such a machine passing through his workshop in 1990, and when he recognized a similar looking motorcycle, identified by the exhaust system he'd fabricated, featured by one of Classic Racers regular advertisers, he put in a call to Bob and the deal was struck.
When engine numbers
were checked against factory records Bob began to appreciate the generous helping of good fortune which led him to purchase this particular International Norton, for it was confirmed as being the machine ridden by Geoff Tanner to fifth place in the 1954 Junior Clubman's TT, and one of the three Junior Clubman's TT International's made for 1954.
Further good fortune became apparent when Bernie set to work on the restoration, for, apart from some cosmetic aberrations in the form of a special one-off petrol tank, silencer and later Manx seat, the Norton was pretty much original including features exclusive to the Clubman's TT models such as the ventilated front brake, high ratio first gear and Manx type footrests.
The motorcycle also appeared to have led a fairly easy life, with gearbox and even the piston re-serviceable. Both Bernie and Bob would be very interested to hear from readers who may know the history of this seemingly cosseted machine from when it raced in 1954 to when it resurfaced in Bernie's workshop in 1990.
One hundred and fifty-nine restoration hours later and the Norton was ready for its first 'run-up', which went as smoothly as might be expected. Bernie was happy and Bob was certainly happy, but one question posed itself. What would Geoff Tanner make of seeing this machine in such fine fettle some fifty-five years after he rode it in the Isle of Man? There was only one way to find out. The Norton was transported to Geoff's home near Ipswich for an historic reunion.
Any misgivings that either Bob or Bernie may have had concerning Geoff Tanner's reaction was quickly dispelled by a cascade of approval from the chirpy Londoner. "Cor look at that… that's wonderful that is… just like it," Geoff enthused, as he set about giving the machine the once over. With an energy and enthusiasm that belied his 81 years Geoff was soon draped across the bike in the same crouch that race fans would have been familiar with over half a century ago.
Born in 1928 at
Walthamstow, Geoff's earliest two-wheeled memory is of cycle rides with friends to The Wake Arms near Epping – where motorcyclists still meet to this day – the highlight of which was 'chuck out' time, when patrons would vie with each other for the most impressive (noisiest) get away.
When he was old enough and had accumulated the required funds, a Scott motorcycle afforded the luxury of longer trips to race circuits, where Geoff studied the skills of riders such as Geoff Monty, Cecil Sandford, Harold Daniel and one M Noel Mavrogordato. However, the rider who made the greatest impression on the young Tanner was his namesake Geoff Duke, who, as Geoff recalls, appeared to "ride around other competitors as if they were standing still".
With National Service (driving armoured cars) out of the way, Geoff purchased a 1938 Norton International, with which he took his first steps towards a career in racing. On a 'try-out' at Great Gransden race circuit, near Cambridge, on a high speed corner, the machine developed a tank slapper. Rather than try to wrestle the machine into submission Geoff leapt off, sustaining damage to machine and rider which, although not rendering either unserviceable, did necessitate a rather sedate homeward journey.
Undaunted he entered his first race at Thruxton in 1952, which was organized by the Boreham Wood racing club. Midfield after the first lap, the aging (and one suspects poorly fettled) plunger frame once again gave up the struggle to keep rider and machine on course, and fellow competitors were forced to allow plenty of space when overtaking, as the errant Norton careered from inner to outer grass verge. Enough was enough and the International had to make way for a more suitable mount, in the form of a Mk8 Velocette.
Geoff fondly recalls the Mk8 as one of the finest machines he ever rode – not entirely surprising perhaps, as one of its previous keepers was Bob Foster, and it was on this machine that Geoff really began to make his mark on the club racing scene. In common with many aspiring racers of the time, everything was done on a shoestring. However, although Geoff's work as a gardener for Walthamstow Council didn't afford him the luxury of paid mechanics it did give rise to his 'Nom de Guerre' of 'the galloping gardener'.
Friends and family formed the Tanner pit crew and a veteran Royal Enfield V-twin conveyed rider and mount to circuits around the country, and Geoff's recollections of the trials and tribulations faced by the impecunious but indomitable racer might both amuse and humble his modern counterparts. One example of triumph over adversity was when, having set out from Walthamstow to race at Castle Coombe in Wiltshire, the Royal Enfield expired after a few miles – unbeknown to him at the time with a holed piston.
Reluctant to sacrifice his weekend's sport for so minor a hiccough, Geoff phoned his brother who shortly arrived on his solo Triumph Tiger 100, complete with sturdy rope, and proceeded to tow the sidecar plus Geoff and his Velocette all the way to the circuit. During a break in racing the cause of the engine failure was identified as a holed piston effected using penny washers either side of the hole, which were held in place by a bolt through the centre. Incredibly the Royal Enfield made it back to Walthamstow under its own steam.
Riding a competitive machine, Geoff's talent quickly became evident, and two particularly interested parties were London motorcycle dealer GK Rae and Hampshire motorcycle dealer John Knight. With Rae's regular rider Bob Keeler having been 'snaffled' by the works Norton team, he was looking for a suitable pilot for that year's Manx Grand Prix. Quite separately, John Knight had noted the publicity potential in fielding one of the new featherbed framed Norton Internationals in the Clubman's TT, and was also looking for a suitable jockey.
With just two years of club racing under his belt and no previous experience of racing on the Isle of Man, Geoff was entered for both the Clubman's TT and the Manx Grand Prix in 1954. Coming from a relatively humble background Geoff couldn't believe his luck in securing such coveted rides and just about managing to keep his feet on the ground, he set off for practice week for the TT aboard his brother's Tiger 100 (in order to learn the circuit) and to his first encounter with our featured Clubman's TT International.
The Norton was late arriving from the factory and Geoff missed a couple of early practice sessions, so, having wheeled the bike away from Douglas harbour, he quickly set about swapping one or two standard items for more suitable racing fitments. Rearset footrests, levers and seat were exchanged for Manx Norton versions, and an unsilenced exhaust pipe and racing number plates added. All that remained was to turn the standard handlebars upside down and to remove the dynamo for the Norton to be ready to go and, as a testament to the Norton factory's standard machine preparation; the Norton did go – very well in deed.
Although not as fast a
s some of the BSA Goldstars he was up against, Geoff was very impressed with the reliability and handling of his mount, and he gleefully recounts being able to take Hillberry corner flat out, where his BSA mounted compatriots had to shut off. Being slight of stature, plenty of foam padding was added both on the tank and at the back of the seat in order that Geoff could comfortably endure the four lap race, in which he amply repaid his sponsors' faith by not only finishing in fifth place, but also by being the first Norton home.
Considering that this was his first Isle of Man outing, Geoff's lap times were pretty extraordinary as well; his race average of 81.54 mph and best lap of 83 mph were never bettered by a 350 Clubman's International. Incidentally, Geoff's race time was exactly the same, to the very second, as George Douglas's race winning time on his Vincent in the previous year's Clubman's 1000cc race.
Photographs from the time show rider and sponsor looking well pleased with their achievement. However, on return from the Island John Knight sold the Clubman's TT International and as we know, five decades were to pass before rider and machine were reacquainted.
Geoff's career continued to blossom, reaching a pinnacle in 1955 when, riding GK Rae's Manx Nortons, he landed wins in both the Junior and Senior Manx Grand Prix (complete with lap records to boot). Not surprisingly this drew the attention of Norton's works team, who offered him the ultimate accolade of a full works ride. Some might be surprised to know that Geoff decided to turn down the works ride, preferring to stick with a smaller and more friendly motorcycle dealer team, where pressure to succeed did not outweigh the enjoyment of his sport.
Always one to plough his own furrow, after a three year spell on the Continental Circus, riding his own Ray Petty prepared Manx Nortons, and with the Italian multis beginning to dominate top level competition, Geoff hung up his leathers. Despite entreaties from a number of sponsors he never raced again and, somewhat incongruously for one so steeped in the world of motorcycle sport, he hasn't owned or even ridden a motorcycle for over forty years. Notwithstanding his lengthy abstinence, any casual observer would have noted the ease with which this youthful Octogenarian slipped into the saddle of the Clubman's TT International, and the look of boyish devilment on his face might suggest that he hasn't lost any of the zest which made him so successful a racer for such a regrettably brief period.
Thanks to Barry Stickland of VMCC for information on the history of the International Norton.