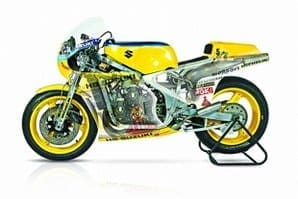 Tony Salt has been around racing a long time. For many, especially the riders who enjoyed his friendly 'can do' approach to tyre support, he is best remembered for the predominately Michelin tyre service he offered in race paddocks large and small. He was also a handy rider in his time too and, like so many more of us, he fancied having a wobble round a race track or two in the growing number of parade events that we get today.
Again, like a few more of us his quest for a bike to have that occasional run out on got slightly out of hand, and he has ended up with a significant collection. However, his plan to get out and ride hit something of a wall when his first purchase had more provenance than he had banked on.
His first buy turned out to be Mick Grant's RG500 from the 1984 season. A long time friend of Mick Grant, Tony was tyre guru to the Yorkshireman when he was a factory Suzuki rider, and was, of course delighted when Mick confirmed the bike's heritage. He thought he had bought an 'ordinary' Mk 8.
But Tony quickly realised that such a special piece of racing hardware (the 500 had been Barry Sheene's mount in 1983 before passing down to Mick) should be ridden by one of the men who enjoyed so much success on it. So Grantie is the regular pilot once again. This, of course, left Tony searching for a mount for his own use. And when he stumbled across a tired, but fairly standard looking, RG 500 he thought he had the very thing.
The Mk 9 RG was removed to the TST workshops, from where Tony still operates a tyre service, and restoration started. And that was when alarm bells started to ring. With the dry build underway the replacement Mk 9 fairing was offered up, and was clearly a mile from fitting. After checking that he had the right model/year/fibreglass, other explanations were sought.
Not only was the fairing situation odd, the forks didn't look like 'normal' Mk 9 units, sporting strange looking adjusters on the top. Also the left hand side lower alloy frame rail was certainly different from a 'customer' bike, with no half moon cut out for easy access to the engine bolts.
Mick was called in to use his old Suzuki contacts and after months of digging around, reading every piece of literature from the period, and checking countless photographs, Tony concluded that he had bought a Suzuki factory XR45, which in all likelihood had been ridden by Randy Mamola and Boet Van Dulmen.
Tony Salt's XR45 runs with a Mk 9 RG 500 engine but he has plans to build up an XR motor over time, using the XR40 crankcases, barrels and heads he has already started to restore. But he is in no rush, for as he points out, with the extremely rare XR motor fitted he wouldn't be so keen to run the bike on a regular basis as there is a complete lack of spares back-up.
The box section alloy frame is obviously pretty trick; although it wasn't universally loved by all the factory riders. It was smaller, lighter, and more compact than the previous year's model. The under bracing on the alloy swinging arm appears to vary from bike to bike on period photographs, almost as you would expect on hand-built works racers. On the same photographs the unusual fork top adjusters are plain to see, another strong clue to the bike's factory team history.
Tony has been running Suzuki GSXR wheels in both the XR and the Mick Grant RG, simply to allow the use of readily available modern tyres, in keeping with his desire to see the bikes in action, but they are in the process of being replaced by Dymag, which look exactly like the originals in line.
Tony Salt goes to great pains to make sure no one can accuse him of trying to create yet another factory race bike. As he says, he has little need to, he owns two of Mick Grant's factory Suzuki racers, the RG500 and Mick's Superstock Championship winning GSXR750, both of which carry peerless provenance.
But when the evidence is as strong as it is with the Van Dulmen/Mamola bike he would be foolish not to dig deeper for conclusive evidence of the bike's heritage. Sadly the factory XR45 motor is long gone, today replaced with a Mk 9 RG unit, but at least this allows Tony to dare run the bike.
During the 1983 Grand Prix season Randy Mamola had a very successful campaign, in fact he only failed to finish in one race all year. And as a consequence he was regularly photographed, and a couple of great shots in that season's Motocourse have unravelled some of the mystery.
Although Tony Salt was initially reluctant to use the other Suzuki four, the ex Sheene/Grant bike, he has a belief that race bikes only come alive when they are running, and more importantly circulating the track.
For this reason all the bikes in his rapidly expanding collection get a regular airing, in fact Mick Grant admits to enjoying riding the RG more now than when he had to use it in anger. Tony himself loves to gallop the GSXR750 Superstock bike, and had great fun on it during the 2007 season riding at Spa and Mallory Park. Running these old girls isn't for the faint-hearted though. With the Suzuki RG motor regular maintenance is essential. And parts don't come cheap. How do you fancy pistons at £110 each or carb rubbers at £78 each!
However, follow a few basic rules, stick rigidly to the maintenance schedule, and the fun far outweighs the cost. A full engine rebuild runs out at around £1,500, but keep the revs down to 10,000 and with luck on your side you have 1500 miles of parading to look forward to.
The riders: Randy Mamola
Young Randy was a revelation from the moment he first sat aboard a motorcycle. And from the moment he hit Europe the cognoscenti predicted multiple World Championships for the freckle-faced Californian. Sadly, for all sorts of reasons, World Championship runner up spots was all he managed.
The 1983 season was a case in point. Few had more consistency, and regular leader board finishes often add up to championships; but not for Randy.
Press reports at the time describe the performance of the Suzuki as 'disappointing' despite young Mamola only failing to finish in one Grand Prix race, the French Grand Prix. Italian team owner Roberto Gallina ran sister bikes for the previous year's World Champion Franco Uncini and pronounced them to be not a patch on the previous two years' bikes.
During the season Randy had a best of second place, in both Italy and Yugoslavia, and three more visits to the rostrum with third places, thanks in no small part to the tuning skills of Mike Sinclair, and some seriously committed riding on Randy's part; but a fifth in South Africa and San Marino, eighth in Germany, and a seventh in Spain saw him finish the year third in the championship, 43 points behind runner-up Kenny Roberts and 45 adrift of winner Freddie Spencer
Boet Van Dulmen
Van Dulmen had what can only be described as a troubled season in 1983. Too many DNFs, at the start of the year, in the South African, French and Italian rounds, effectively ruled him out of any stab at the championship, but solid mid-season rides showed what he could do on a machine that was far from the best in the series.
With a best Grand Prix finish of seventh in Yugoslavia and the rest of his finishes between eighth and 12th the Dutchman ended the year in what must have been a disappointing and distant 11th.
The ride
Swinging my leg over for the first time at a warm and windy Jurby airfield, in the Isle of Man, gave me some idea of what to expect on the TT Circuit for the Lap of Honour.
Although being run for the first time since the rebuild, and set very rich, the smooth linear RG power curve was evident. Sadly, come the much anticipated TT lap, the lack of set-up time showed, something which has since been sorted on the Dyno, and my 37.73 miles of the best roads in the world had something of the kangaroo about it.
On the long straights the floats drained, just as I was settling in for a good run, and I had to roll off to allow the fuel flow to catch up, much to amusement of the racing pals who had set off behind me.
However, what it was possible to tell from half an hour aboard the RG was that this was the genuine article. With taut, if at times lively, handling the short forward weight bias chassis went exactly where it was pointed. A later ride at Spa Francorchamps confirmed, perhaps more so, that this is a Grand Prix racer with razor-sharp handling and just the right amount of flex in the chassis. Tony has promised me a proper ride, when we both have more time next season, and the carbs are fully sorted, and you know what? I can't wait.