After Chas Mortimer gave Yamaha its first 500cc class win at the last Grand Prix of 1972, riding a 350 twin, the 1973 season marked a new dawn for the Japanese factory with its impressive water-cooled 0W20 in-line-four. Reigning 250cc World Champion Jarno Saarinen would spearhead the factory assault. Yamaha team manager Rodney Gould and the then MV team-mates Agostini and Read look back on a historic day at Le Castellet.
Words: Frank Weeink Photography: Jan Burgers
Things don't always go the way you plan them. Jarno Saarinen knew all about that. He won the 1972 250 World Championship on a bike that was supposed to be raced by Barry Sheene. The Englishman, however, never clicked with the Yamaha – Jarno did.
That year, Saarinen also beat 350cc World Champion Giacomo Agostini at the Nürburgring; that was a heavy blow for the MV Agusta-mounted multi-champion and his dedicated following. A 250-350 double World Championship proved to be just a little bit too much to ask for Saarinen.
Nevertheless, in his third full Grand Prix season, Saarinen had definitely convinced the Yamaha factory management: it was time for a head-on attack in the 500cc class.
Up until then, riders had raced Yamaha's 352cc water-cooled twin in the premier class, without seriously threatening Ago's reign. The allmighty combination of the Italian superstar and the nimble, yet strong MV triple did not have to fear the less powerful opposition of Yamahas and roadbike-turned-racer Husqvarnas, Suzukis and Kawasakis.
That's why, back in Japan, engineers had been working flat out on a revolutionary water-cooled inline-four two-stroke – aimed to be lighter and better handling than the MVs.
Yamaha's official return to Grand Prix racing, after the factory had left in 1970, had a reason, says Rodney Gould, the 1970 250cc World Champion and fourth in the 1972 500cc standings.
Gould had already announced his retirement from racing when Yamaha offered him a position in the team's management. The factory had never had an official team in the 500cc class. Rod Gould says: "The publicity could benefit Yamaha. Although they hadn't told me officially, I knew that Jarno would be the number 1 rider and Hideo Kanaya would ride the second bike."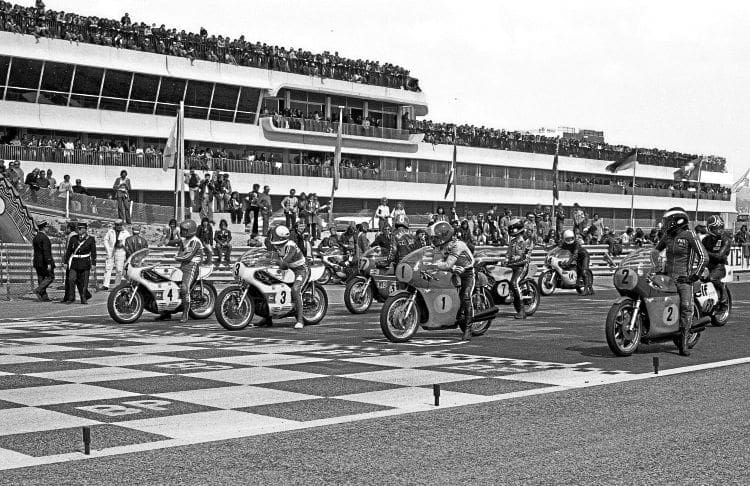 But things took a turn for the unexpected; during the winter Saarinen injured himself while ice-racing back in Finland and he was not completely fit when he was expected in Japan for his first test on the new 0W20.
By then Kanaya had already tested the bike and meanwhile mechanic Ferry Brouwer was working on Jarno's machine in the Dutch workshop of the team. Jarno's first test was at the Belgian circuit of Zolder.
Despite the low temperatures, the 250 World Champ was happy with the way the big 494cc in-line-four and its chrome molydeneum frame and the disc brakes felt and he was in great spirits. This could be good.
Fortunately, Saarinen's injuries healed up quickly and he was in stellar form going into the 1973 season. He became the first European racer to win the Daytona 200, riding a 350 twin. On that same bike he also won the Imola 200, not long before the start of the Grand Prix season.
The Yamaha team were a welcome addition to the 500cc class and riders, mechanics and staff presented themselves in a rather unorthodox but charismatic way.
"Even at MV they wore standard blue overalls with a small logo on their vans", recalls 76-year-old Gould. "We all wore overalls and team clothing with our names on it. Until those days it didn't matter how you dressed or looked. The only way you'd be stopped going into the paddock was probably to try and get in naked."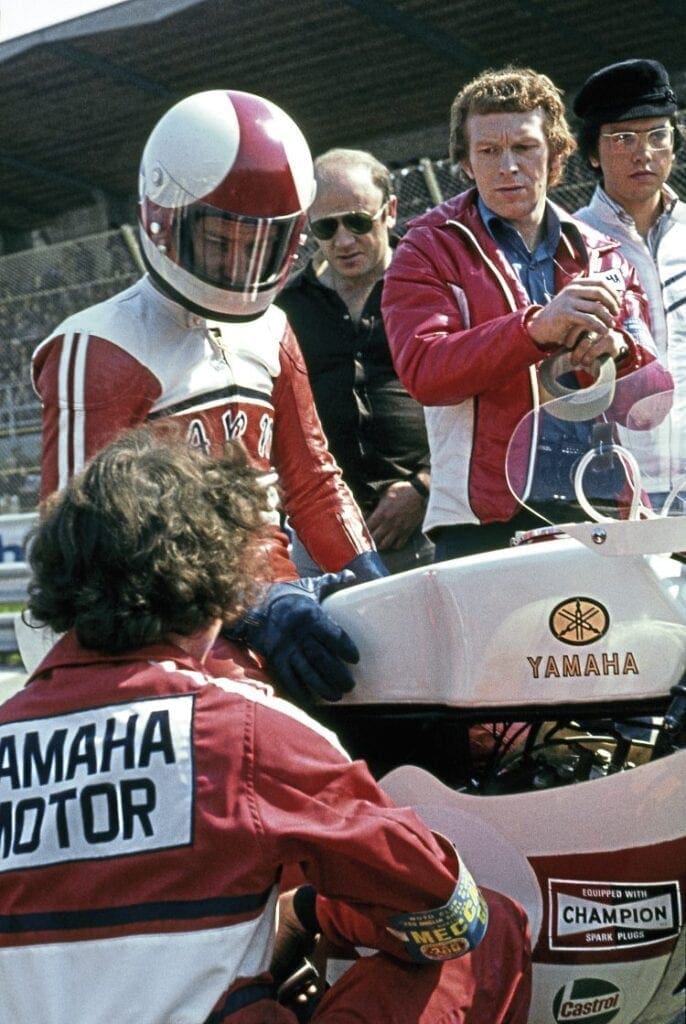 Possibly because of the rumours about the alarmingly fast 0W20, MV Agusta sent out a remarkable press release, stating that Giacomo Agostini and Phil Read would no longer be full factory riders. More than forty years later, now 76-year-old Read dismisses the press release. "I don't know anything about that", says Read. "Until I left MV at the end of 1975, I always enjoyed full factory support."
Read, very much his own man and winner of five world championships in the 125 and 250 class at the time, joined the MV Agusta team during the 1972 season to help Ago retain the 350 championship.
Having to serve as a back-up rider to Agostini did not bother Read in 1972. In 1973 they became team-mates in the 500cc class too. "MV Agusta was like what Ferrari was on four wheels", explains the Englishman. "It was a great honour for me to ride for the factory like so many great riders like John Surtees, Mike Hailwood and Agostini had done before me. But if you'd win, it was because of the bike. If you'd lose, it was the rider's fault."
In 1973, it was every man for himself in the MV Agusta team, says Read. Agostini, a seven-time 500cc World Champion at the time, knew Read would be a hard nut to crack. Read and Ago had never been close friends. "I did not mind having him as a team-mate", says Ago now.
"Even if he hadn't been my team-mate, I would have wanted to beat him. When I was MV's only rider, all the pressure was on me. I kept on pushing myself by setting new records, that's what kept me motivated."
Although he had been used to riding lighter two-strokes, Read had no problems getting to grips with the big four-strokes. "A bike is a bike", says Read. "Some riders had problems with that switch – not me. You have to use a bike's powerband, you have to feel how it handles and how it brakes. It's all in the head."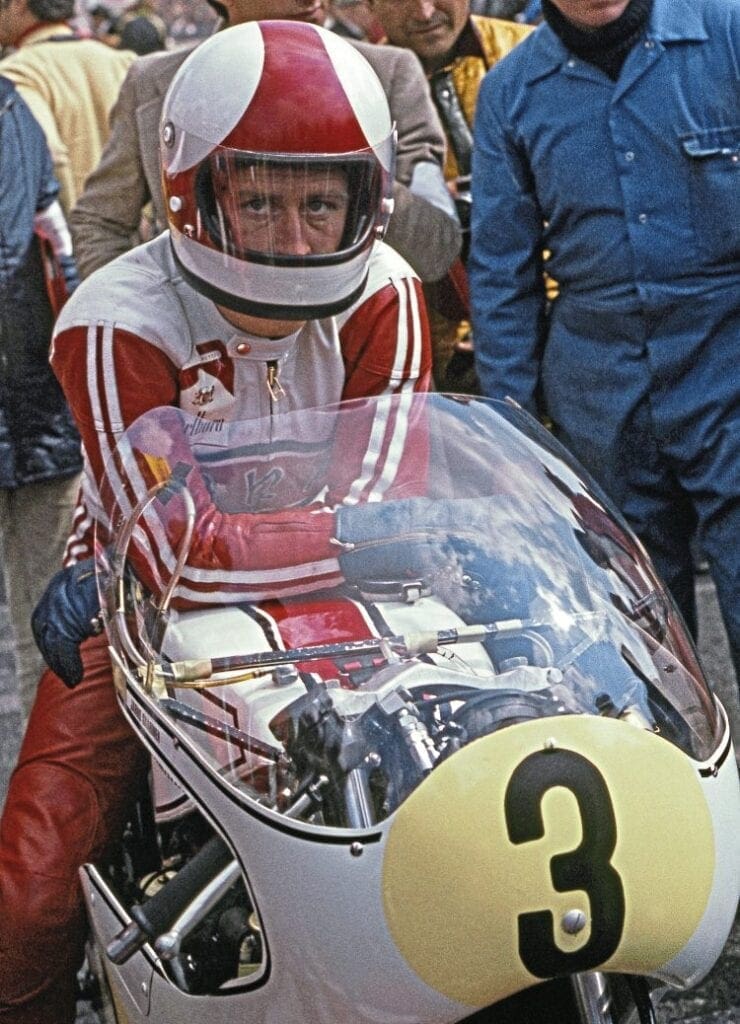 The MV team had not done much testing before the season started in France. "We had not even ridden the bikes before that first race", remembers Read. "There wasn't much to test anyway. It was a matter of finding a good setting for the engine and the gearing on the circuit and go for it. I was a professional, I knew what was expected of me."
The first Grand Prix of the 1973 season would be held at Le Castellet, in the South of France, a track new to the Grand Prix calender. Gould thought the 5.8 km/3.6 mile long circuit, with its 1.1 mile Mistral straight could favour the Yamaha 0W20. "Because of that long straight we got a lot of feedback about where we were compared to the MVs", says Gould.
"Sometimes getting things right is harder on a short and twisty track."
During practice, the Yamahas posed an instant threat to the MVs and within the Yamaha team there was a feeling that something special could happen. "We immediately thought we were capable of a win", admits Gould. "Jarno and Hideo surely had their work cut out for them on the bike, it was quite a handful, but it was good."
Kanaya had done most of the testing, but Saarinen was clearly the factory's favourite. Although practice went well for him, Saarinen wasn't very talkative, recalls Gould. "His big smile just said it all. Some riders come into the pits and instantly start complaining about things that aren't working. Jarno was different.
He would come in and mention all the good things on the bike and then suggest the things the mechanics could change."
For his first race on the other side of the pitwall, Gould clearly recognised the differences between the MVs and the new Yamaha. "The Yamahas had a better exit speed out of the corners but the MV's top speed was better", says Read.
Gould, a former opponent to Read, agrees with that and admits that the official factory figures of 80bhp were rather modest. "My guess is that the difference in power between the MV and the Yamaha maybe was 5bhp rather than 10bhp. But engine power was not the most important thing for us. It's great to have an engine with 100bhp but what's the use of that if your riders can't use it?"
Still the Yamaha riders Kanaya and Saarinen qualified first and second, Ago put the new 500/4 MV on third and Read, who crashed during practice and injured his hand, was next on the grid.
Race Day
Sunday April 22 started off with an almost standard routine, which saw Saarinen dominating the 250cc Grand Prix, beating his team-mate Kanaya by almost 30 seconds. After that, it was business as usual in the 350cc race, with Ago leading Read home. The tension for the 500cc race was building.
Despite having set his fastest time on the new MV 4, Ago chose to ride the old triple, the bike he clearly preferred. Did he have more faith in the older triple and maybe expect technical gremlins for the new Yamaha? "The triple is the best MV I have ever ridden," explains Ago.
"Read got on the new 500/4 – a bike with disc brakes, whereas the old 500/3 still had drum brakes – has a different view. "Giacomo had always been used to the triple and apparently he could not get used to the disc brakes, the extra power and the handling of the four-cylinder bike. He was always a little complacent when it came to change and his attitude was not always positive."
Twenty 5.8 km laps awaited the riders in the 500cc class, it was the battle that many racing fans and factories had been longing to see. All 57 races that he finished since 1966 Ago managed to win but the 1973 French Grand Prix would mark a change and it looked like the 12 times world champion would have a hard time preventing the Flying Finn from spreading his wings further. And what about that team-mate, that would go for it too?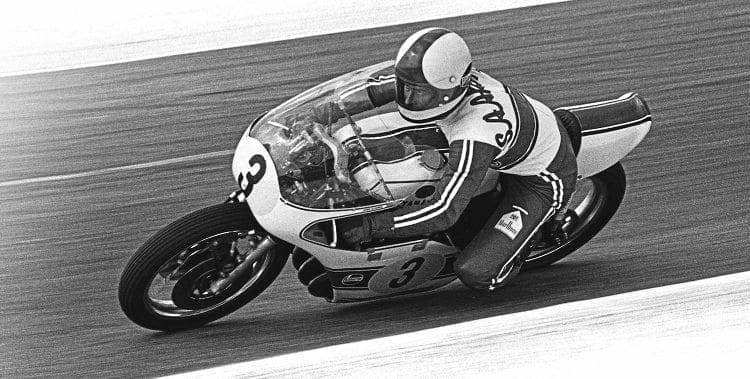 Read took the holeshot on the impressive sounding air-cooled MV with a confident Saarinen on the screaming Yamaha on his tail but soon Saarinen was in command and it was Ago chasing him.
Saarinen's characteristic style, his hands on the almost vertically placed clip ons, worked brilliantly on the big 500 too. "Because of his ice-racing background, Jarno didn't mind his bikes sliding", analysed Gould.
"He would not use spikes in those ice-racing events. He would race motocross tyres and that's how he developed a great feel for oversteer because of a surplus of power. Many riders, including me, were not used to that.
"He told me once that he'd feel like he was on an ice-racing machine whenever the rear went sideways. I think his style resembles how riders race nowadays, more than any rider of his time."
Nursing a four-second lead, his mechanics signalled Saarinen not to slow down – it was vital that he should not give Ago the impression a win was for the taking. Then, in lap 11, the crowds jumped to their feet, the roar of the MV triple had silenced. While trying to keep up with Saarinen, Agostini crashed out of the race, much to his own disgust and disappointment. "I did everything not to lose touch but I crashed when my front wheel went. I just braked too hard", says the now 73-year-old Agostini.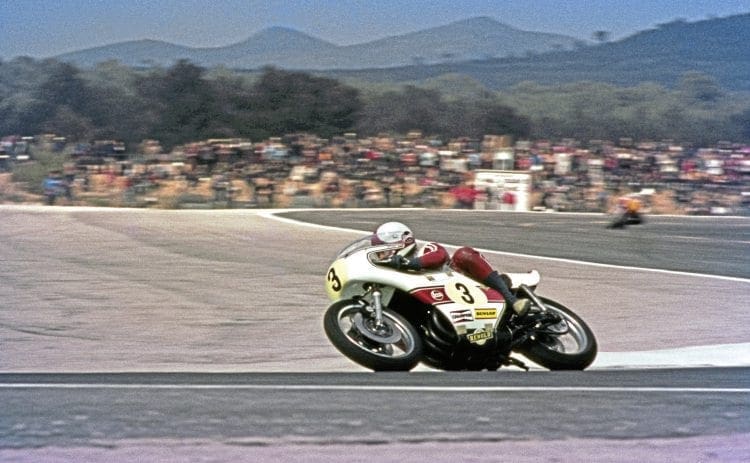 The race had been an eye-opener for him. "I realised that the four-stroke era was coming to an end. The two-strokes were lighter and faster. The Yamaha handled better because of its lower weight. The engine of my 500/3 weighed 60 kilos, the Yamaha four-cylinder engine weighed between 48 and 50 kilos.
"That was clearly noticable on track." But it wasn't just the bike, admits Agostini. "Jarno was very good on the brakes and he had a very high corner speed. He wasn't just a fast rider, he was technically very skilled too. I knew at Yamaha they were working very hard and I understood the MV package was at its limit. That was the reason why I switched to Yamaha at the end of the 1973 season."
After Ago's crash, Saarinen kept his relentless race pace. The Yamaha star was blindingly fast during the race and he set a new lap record – even 3.8 seconds faster than Kanaya's pole position time. Read and Kanaya battled for second but despite displacing backmarkers better than Read, the Japanese ace had to let Read go.
His knee injury, as a result of a crash at the Imola 200, slowed Kanaya down. "I could fend off Kanaya but Saarinen was visibly faster through the corners and he built up a lead", says Read. "He was also a harder rider than Kanaya."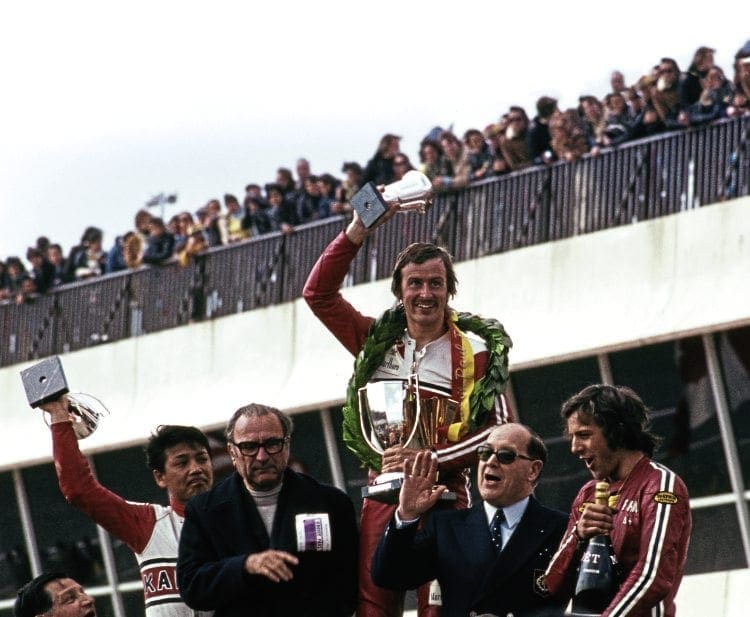 After 45 minutes and 57.3 seconds, Jarno Saarinen celebrated his 500cc Grand Prix debut with a commanding victory – on a new machine, a unique feat. Read finished 16 seconds behind Saarinen, and Kanaya's third place underlined, times were about to change.
At the winner's ceremony Saarinen smiled but kept his Finnish cool. "Finnish people don't show their emotions easily, but he was very happy", says Gould. "We had quite a few drinks to celebrate the win and the team management spent a lot of money phoning home to Japan.
"We understood that this was an historic win. Had we finished in fifth position, maybe they'd have given us another four races or so to set the record straight. If we would have failed, Yamaha could have withdrawn. After the French Grand Prix we knew we would continue."
Two weeks after the French win Saarinen and Kanaya made it a Yamaha one-two at the super fast Salzburgring, while Read and Ago failed to score points.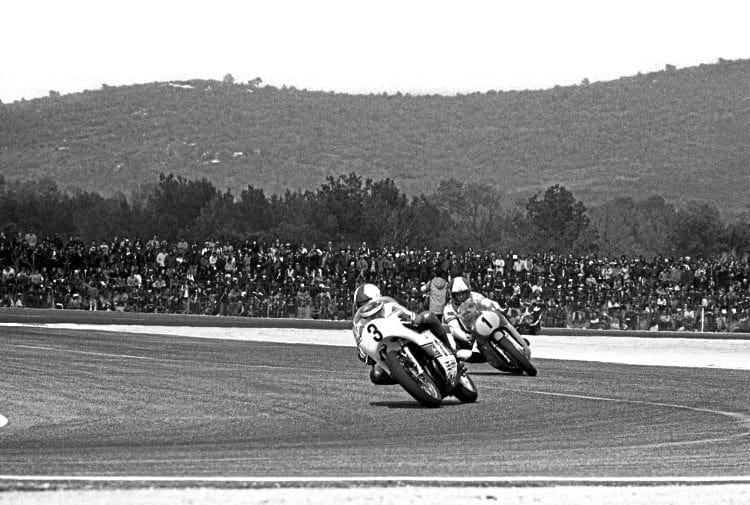 And although Read won his first 500cc race for MV at the German Grand Prix at Hockenheim after a hard charging Saarinen, Kanaya and Ago all retired, Jarno led both the 250 and the 500 championship when the Continental Circus travelled to Monza.
On Sunday May 20 the fairytale got a very bitter ending when Jarno Saarinen and Renzo Pasolini both crashed fatally in the first lap of the 250 race. The racing community lost two loved ones on one disastrous afternoon. "Jarno was a hard rider who was prepared to take it to the limit. He was a brilliant rider", thinks Read, who went on to win his first 500cc world title in that 1973 season.
Saarinen had already stated that he wasn't planning on having a long racing career because of the dangers involved. However, the opportunity to become a big name in the 500cc class was too good to leave out.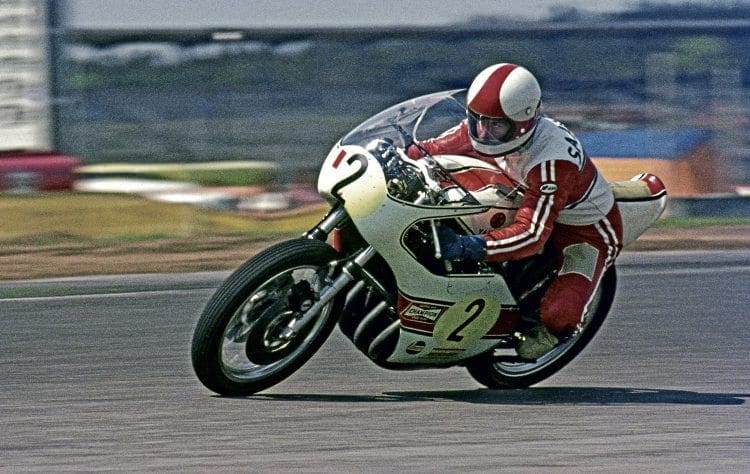 "I am absolutely convinced he could have won the 500cc championship in his first year", says Rod Gould. "And I truly believe he would've retained his 250 title too. But unfortunately we'll never know."
Read more News and Features online at www.classicracer.com and in the latest issue of Classic Racer – on sale now!