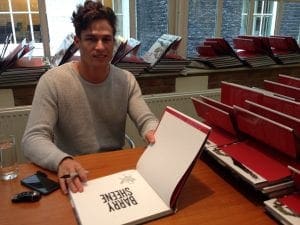 Barry Sheene is arguably the greatest British motorcycle racing rider of all time. A chancer, lovable rogue and the leading sports star of his era, adored by the public and press alike. He won two world motorcycle championships in 1976 and 1977.
He achieved iconic status by being involved in some horrific crashes and was dubbed 'the bionic man' on account of the amount of metal used to reconstruct his legs after a particularly bad accident.
Barry emigrated to Australia in 1987 where he became a celebrated motorsport commentator. His premature passing in 2003 to cancer robbed motorsport of one of its greatest characters.
For the first time, Barry's family agreed to open up their personal archive to give an unprecedented insight into the two-time 500cc world champion. Through more than 120 previously unpublished personal photographs,Times journalist and award-winning author Rick Broadbent tells the story of a remarkable sports star. Barry's son Freddie Sheene provides the Foreword.
Published to mark the 40th anniversary of his second world championship win, it provides a unique pictorial account of a life lived at full throttle and is an intensely personal look at a racer, legend, husband and father.The book, published by
Bloomsbury Sport is available from all good bookshops and costs just £20.
Comments
comments