This is just a sample from the current issue. There are lots more adverts and photo adverts to browse in the magazine.
You can place your own advert online.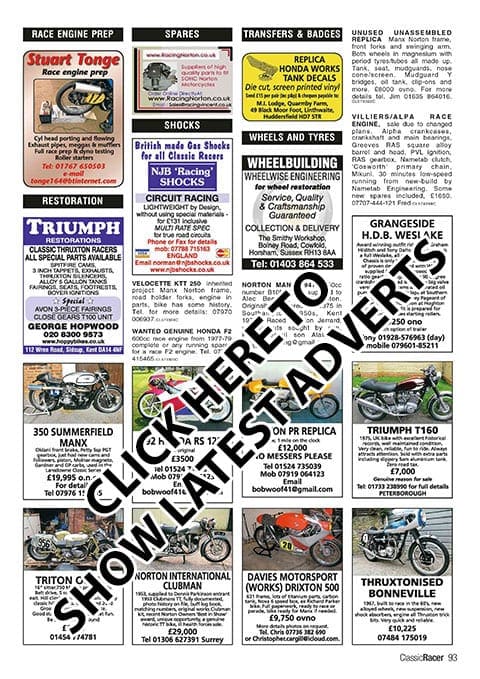 <<Click on the page above to load the PDF of all this months display ads in full>>

AJS 7R ENGINE FOR SALE. This engine is built from a mixture of new and old parts e.g. 1961 crankcases, new timing covers and cambox. Offers around £7000. Contact: nick@sheimar2.plus.com for details and photos. Tel. 07745 820261. CL591387C
MORIWAKI KAWASAKI. I am desperately in need of cylinder head hardware for a Moriwaki Z1 cylinder head, especially valve collets for the 6.5mm stem valves. Any help appreciated. Contact: email: jerryhumpage@aol.com or tel. 07818 450432 United Kingdom. CL591381C
SUZUKI T200 RACE ENGINE rebuilt crank, Fahron heads, barrels, new pattern clutch basket £1000. Tel. 078351 88469 Staffs. CL591373C
TZ750 ENGINE, brand new cylinders (000) (007/8) and heads, Heockle cranks, TZ500 ignition, 6 petal reeds, no carbs, good cases, £18,000 ono. Contact: email: david.brayshaw2@btinternet.com or tel. 07855 902580. CL591382C
• For more general classic motorcycle adverts, sales & wants – visit the Classic Bikers Club classifieds page – over 1,000 adverts on-line!
---
You can place your own advert online or download a form to print, complete and post.